Image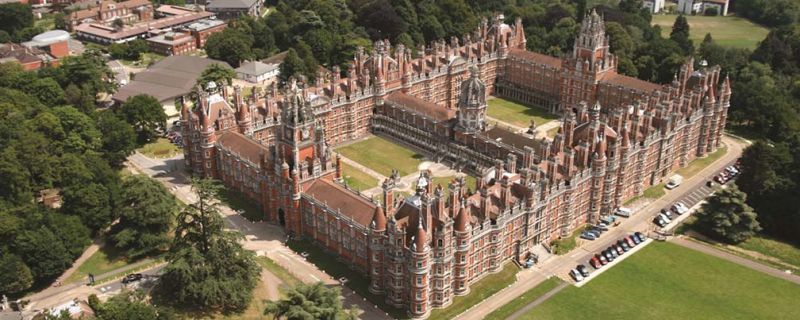 Study at Royal Holloway, University of London
Royal Holloway is one of the UK's leading research-intensive universities, with 21 academic departments and schools spanning the arts and humanities, sciences, social sciences, management, economics and law. It is ranked in the top 25 universities in the UK and the top 350 universities in the world.
Read more general info on Royal Holloway below but to get more details on whether Royal Holloway is a good fit for you, fill out the form at the bottom of this page and one of our advisors will be in touch to help you decide if Royal Holloway is your next dream school!
Research-driven learning programs
Royal Holloway, University of London, is a center of research excellence. It has collaborated with government bodies, other universities, and institutes for integrated research programs and technology transfer. The university has also partnered with businesses for commercialized research projects. Faculty members are highly-experienced academicians and experts from relevant fields and the university offers state-of-the-art infrastructure for facilitating advanced learning. The research environment supports blue-skies thinking and excellent disciplinary and interdisciplinary research outputs, tackling real-world problems, seeking creative solutions to complex challenges, alleviating inequalities, and living sustainably in today's inter-connected and digital world.
Law school
The Department of Law and Criminology has a reputation for high quality research and teaching. Whilst studying Law at Royal Holloway you will explore the fundamental principles of justice, equity and equality within the framework of English and European law. In addition to acquiring invaluable legal skills in research and oral presentation, you will have the opportunity to choose from a range of subjects in fields such as family law, medical law, company law and international law along with criminology options in terrorism, sentencing and penal policy and gender and crime.
Community spirit
Royal Holloway offers a genuine community experience strengthened by diversity, and welcomes students and academics who travel from all over the world to study and work there, ensuring an international and multicultural perspective within a close knit and historic campus. Approximately 25% of students come from overseas and the alumni network reaches across over 120 different countries. Royal Holloway is consistently recognised for being one of the safest universities in the UK and has a close relationship with the local community, working together to maintain a harmonious community both on and off campus.
Beautiful 135 acre campus
The campus is just 40 minutes by train from London and is considered one of the most beautiful in the world with numerous teaching and study spaces, bars and cafés, high-quality accommodation, and sports facilities. All this is set in 135 acres of stunning parkland. The Founder's Building (likened to Harry's Potter's Hogwarts) is one of the world's most spectacular university buildings, and home to the famous Picture Gallery containing Thomas Holloway's fine collection of Victorian paintings, and a beautiful chapel. It also houses a dining hall and library and provides a home for 500 students. The campus offers the best of both worlds, being friendly and relaxed, while also dynamic and busy.
Join a webinar
If you want to learn more about Royal Holloway, please join us for one of these free webinars:
Get in touch
Are you ready to start the application process? Get in touch with us today for free support and guidance by filling out the form below.